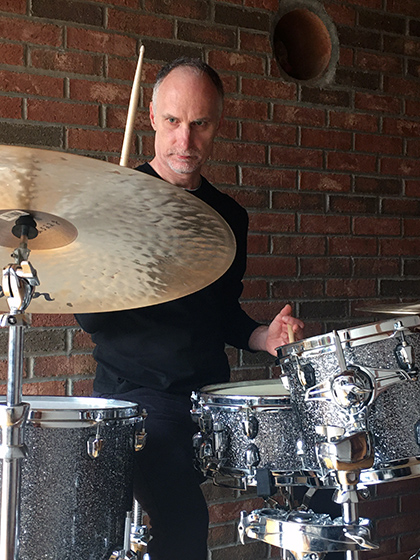 Some of the many artists that Pete Sweeney has performed with:

Johnny "Clyde" Copeland
Duke Robillard
Ronnie Earl
"Dangerous" Dan Toler
Jat Traynor ( Jay and the Americans)
Nick Brignola
Larry Coryell
Murali Coryell
Mick Goodrick
Frank Gambale
Vinnie Moore
Andy Sommers (The Police)
Robben Ford
John Abercrombie
Carey De Negris
Laurel Masse (Manhattan Transfer)




Pete Sweeney is a drummer, author, and educator living in Troy New York. He has studied with Dave Calarco, Joe Morello, Pete "La Roca" Sims, and Mike Clark. He has written 20 instructional books for the Alfred Publishing company including "The Versatile Drummer", "Drummer's Guide to Fills", and the "Drum Atlas" book series on Cuba, Jamaica, Salsa, and Brazil. He has also written 5 drum curriculum books for the School of Rock national franchise.

He is currently a faculty member of Bard College at Simons Rock and the Berkshire Music School. He was a guest teacher at the 2014 Ju Percussion workshop in Taipei Taiwan.

Pete has performed, toured ,and recorded with many great musicians such as Pat Metheny, Lee Ritenour, Robben Ford, John Abercrombie, Larry Coryell, Ronnie Earl, Duke Robillard, Mick Goodrick, Steve Bailey, Johnny Copeland, Ed Mann, Andy Summers, Dweezil Zappa, Dan Toler, and many others.

He endorses Mapex Drums. Zildjian cymbals, Vic Firth sticks, and Aquarian drum heads.